Sound Transit Information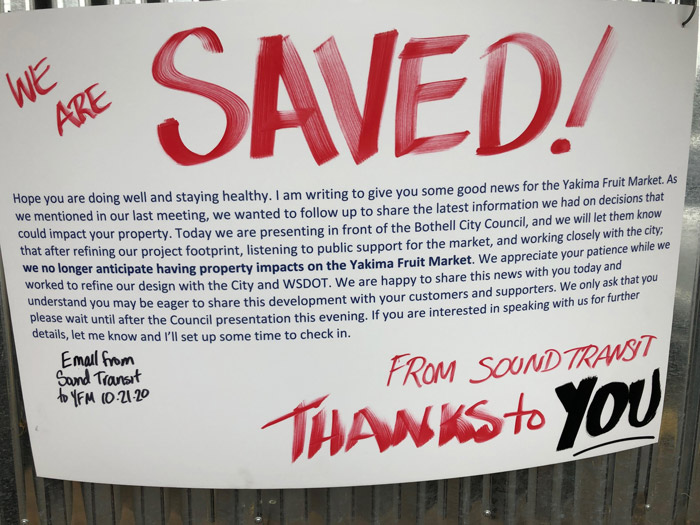 In 1938 when the fruit market opened, Bothell Way had already experienced several transformations from a dusty, muddy logging road to a dangerously "improved" red brick surface which was slippery when wet, to one cement- paved lane in each direction. Through the years the road has grown to five lanes, gobbling up fruit market property with each new enlargement.
In spring of 2019, Sound Transit, the non government business which oversees transit in a three-county region, informed us of their plans to enlarge Bothell Way yet again, with two additional lanes, a sidewalk and planting strip on each side of the road. The initial sketch showed these improvements taking all our front parking, most of our side parking, and clipping off part of our building.
Because you "can't fight City Hall," we had no illusions that we could "beat" Sound Transit; the project is a done deal, and they will use eminent domain to take our property for the project. In late 2019 The City of Bothell and Sound Transit began to enter into an agreement to turn the project over to the City. It is unknown if this process is finalized as of this writing (April 2020).
Our hope and prayer is that with the City of Bothell managing the project, a more sensitive handling of the project may be possible, for instance, instead of a 14′ wide sidewalk, perhaps it could be less wide. There may be details that could be finessed that would allow our continued survival.
Because there is no final design as yet, we cannot really begin to plan, but we have hired an eminent domain attorney and an architect. Our deepest, dearest hope is to be able to remain right here and re configure our parking and our nursery and pray that the City will create a sensitive design plan. We know now that we cannot ask for site mitigation (the hill behind the market), that we cannot alter our 1950 building without invoking current regulations for surface water and building codes, and with the only suitable nearby parcel of land going for 13 million dollars, we cannot relocate.
Customers have asked us if the election of Fall 2019 where voters approved (again) the $30 car tab initiative would have a quelling effect on Sound Transit. The answer is unknown. Now we are facing unprecedented economic and personal injury due to the Covid virus, and customers are asking if this will have any effect on Sound Transit. This, too is unknown.
This dear little fruit stand is a family business with deep roots, and we know that with 82 years behind us, we have a legacy. We want very much to have a future. #SAVEYAKIMAFRUITMARKET
Long-standing Bothell market faces uncertain future as city plans to expand roadway
81-year-old Yakima Fruit Market in Bothell latest business in Sound Transit's path